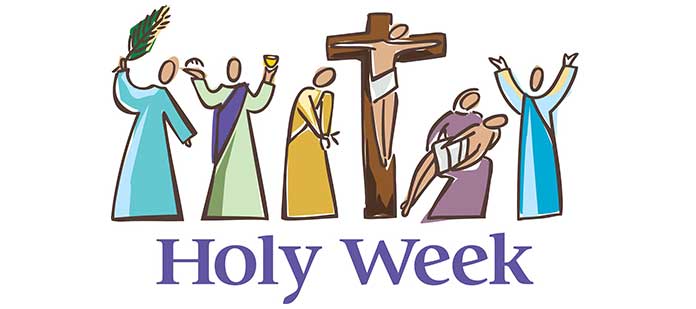 Join us as we follow Christ through the streets of Jerusalem, the washing of the disciples feet, the last supper,  to the Cross and finally to Easter hope.
Palm Sunday, April 14th, 10 a.m.
Today's liturgy begins with a palm procession, commemorating Jesus' entry into Jerusalem.  We remember that the Roman army also paraded through Jerusalem that day, contrasting Jesus' reign of love and the empire's reign of oppression.  We are called to rededicate our lives to love and justice in Christ's name.
Maundy Thursday, April 18th, 7 p.m.
At the heart of the Maundy Thursday liturgy is Jesus' commandment to love one another.  Join us as we gather around the table in groups of twelve to share a remembrance of the last supper. At the Lord's table we remember Jesus' sacrifice of his life, even as we are called to offer ourselves in love for the life of the world.
Good Friday, April 19th, 7 p.m.
In the heartbreak of the cross lives the celebration of Christ's life-giving passion for all the world. The liturgy remembers his final words, as we strip the altar and enter the  vigil, waiting in hope for Easter morning.
Easter Day, The Resurrection of our Lord, April 21st, 10 a.m.
In the Christian's life, Easter is where hope is born, and where death becomes life. Death never again has the last word. Filled with hope, we go forth to share the news that Christ is risen!