Throughout the six weeks of Lent we will "freeze-frame" moments in Holy Week so we might put ourselves in the picture, thereby "Entering the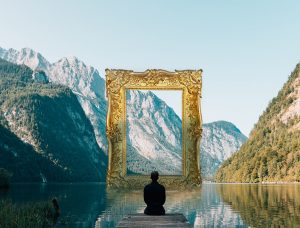 Passion of Jesus." How might taking a closer look at the ancient story open us to deeper conviction for our role in its ongoing message? Inspired by Amy-Jill Levine's book by the same name, we'll prepare the canvas. 
Click to order the book 
(optional).
Then each Wednesday night we'll enter the story with a scripture and single discussion question. We continue our annual soup suppers in the fellowship hall, along with our devotions and discussion. Each discussion will invite us to apply the lessons of Jesus' final weeks of ministry to our current lives. Check out the sign up sheet in the narthex to sponsor all or part of the food for one of our devotional Wednesdays. Dinner at 6 pm, discussion to follow. Here is the full schedule.
Week 1, March 4 — The Parade: Risking Reputation, entrance into Jerusalem. How does "reputation" figure in today, in 2020?
Week 2, March 11— The Temple: Risking Righteous Anger, as Jesus overturns tables in the Temple, we are called to examine whether "business as usual" in our own houses of worship is keeping us from deeper ministry.
Week 3, March 18 — The Teaching: Risking Challenge, Jesus' teachings present a challenge to religious authorities and their interpretations of the law, and show us new wisdom for our lives today. What risks have you experienced because of your faith.
Week 4, March 25 — The First Dinner: Risking Rejection, a woman anoints Jesus with nard in an extravagant act of devotion, prompting a heated debate about expressions of love and community values. Have you ever experienced or witnessed rejection in the church?
Week 5, April 1 — The Last Supper: Risking the Loss of Friends, Jesus' radical act sets a new example of love and sacrifice in relationship. How does Jesus' example affect your relationships today?
Week 6, Holy Week Palm Sunday, April 5 to Easter, April 12