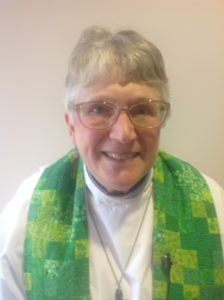 Reverend  Joan Armstrong – Interim Pastor
email: Pastor@stjohnsmiamisburg.org
Pastor Joan grew up outside Chicago in a western suburb called Glen Ellyn, and has been a Lutheran her entire life.  She attended Western Illinois University in the far western part of the state of Illinois. Pastor had a full career that eventually brought her to the Midwest, culminating in co-operating a small managed healthcare consulting business for 13 years until 2003.
When the business closed due to the retirement of the senior partner, Pastor Joan heeded the still, small voice that had been whispering to her, which became a guiding light to the Lutheran Ministry. In September of 2004, she moved to Columbus and attended Trinity Lutheran Seminary where she graduated in 2009.
Freshly ordained, Pastor Joan took a joint call at Christ Lutheran Church and Emmanuel Lutheran Church in Kittanning, PA, northeast of Pittsburgh out in the country.  After several years, Pastor Joan returned to the Cincinnati area to be closer to family and has served as an interim for several Congregations including St. Luke Lutheran Church in  Cold Spring, KY, and Zion Lutheran Church in Middletown. Her most recent service was for St. Paul Lutheran Church in Reading in order to give their pastor a much needed 3 month maternity leave.
The extended family and friends of the Congregation of St John's Lutheran of Miamisburg Ohio are delighted to have Pastor Joan as our interim, who has blessed us all as we have continued services uninterrupted, though virtually, throughout the Covid epidemic.  Please see fit to join us virtually (until the Pandemic eases) or eventually as we return to in-person services with simulcast through Zoom.
God's Blessings be with you today and always.
They shall be like a tree planted by water, sending out its roots by the stream. It shall not fear when heat comes, and its leaves shall stay green; in the year of drought it is not anxious, and it does not cease to bear fruit.                                                        Jeremiah 17:8
Our Weekly Sermons are part of our on-line worships services which are recorded. Feel Free to review Pasto Joan's messages at your convenience, and have a blessed day.