Reverend  Heidi Johns- Interim Pastor
email: Pastor@stjohnsmiamisburg.org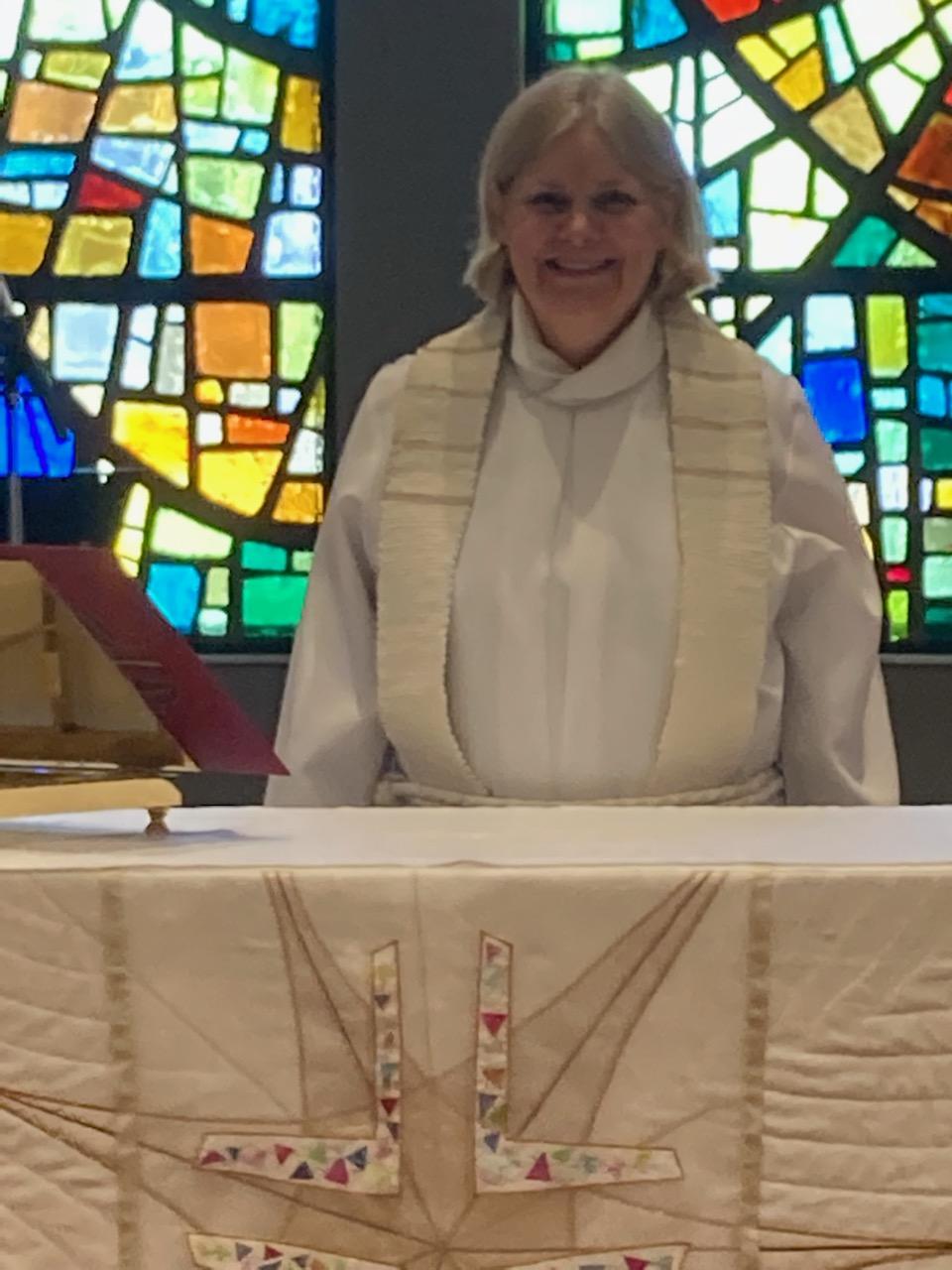 Introduction
Pastor Heidi Johns grew up in Wakefield, a small town in Michigan's Upper Peninsula, not too far from the shores of Lake Superior.   She is a life-long Lutheran and from an early age was very active in the life of the congregation she was raised in.  When she was in high school her Pastor asked her if she had ever considered going into the ministry.  The suggestion struck a chord in her.
She graduated from Concordia College (ELCA) in Moorhead, MN with a degree in Social Work and then attended Luther Seminary in St. Paul, MN.  She was ordained in 1991 and has been serving in churches ever since, including churches in rural North Dakota; Milwaukee, WI, and Glen Ellyn, IL.  In 2014 she received a call to serve as Lead Pastor at Good Shepherd Lutheran Church in Cincinnati.  She retired from that call in May of 2022.
In June of 2021 Pastor Heidi married Chris Schaefer, a retired attorney who worked as an Assistant Prosecutor for Hamilton County for over 40 years.  Last Fall Heidi and Chris purchased a 26' travel trailer and spent much of the summer of 2022 traveling to various parts of the US and loved every minute of it!
In her free time Pastor Heidi enjoys walking, reading, exploring new parts of Cincinnati, researching and planning the next travel trailer adventure, and cheering on her beloved Green Bay Packers.
Greeting from Pastor Heidi
Greetings in the name of Christ, St John's Lutheran Church!
I am looking forward to beginning my service as your Interim Pastor on November 9, 2022.  As I have started learning about you as a family of faith and have met with your Church Council I am inspired by your faithfulness and service to your community.   You certainly seem to put your faith into action by serving others.
I am newly retired, but feel God nudging me to find new ways to share my gifts.  This opportunity at St John's is an answer to prayer.  The things that bring me joy in serving as Pastor include; preaching, leading worship, developing relationships in the congregation, helping others find ways to use their gifts to share God's love, encouraging others to grow in faith, and joining my faith family in serving in the community.  I'm pretty good at organizing things, and love to recruit church members to help (you've been warned)!
As St John's continues to look to the future and discern God's direction, I am excited to join you in the work of listening for God's voice and noticing what opportunities God is providing.  My prayer will be that, together, we will grow closer to the God who loves us and that we will share God's love with others.
Looking forward to seeing you all in worship on November 13!
Pastor Heidi Johns
I John 3:1  See what love the Father has given us, that we should be called children of God, and that is what we are.
God's Blessings be with you today and always.