Our Bible/Book Study Brunch reconvenes on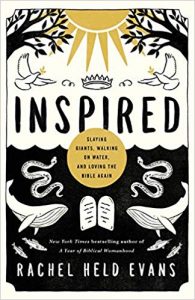 the first Sunday of the month, beginning with October 6.  Bring a brunch or lunch item to share, along with your copy of Rachel Held Evans book "Inspired: Slaying Giants, Walking on Water, and Loving the Bible Again."  We'll take on chapter 3 on the topic of "War Stories" in the scriptures.
When generations of humanity have justified wars informed by the bible, do you think it's possible to wage war and peace simultaneously. Join us for a spirited discussion.  Are we peacemakers or are we not?